Why You Should Sell Your Home in 2018
Housing markets should remain tight this year, but 2018 may be a great time to profit as a home seller.
If you haven't given much thought to selling your home this year, you might want to think again.
Real estate information company Trulia commissioned a survey of more than 2,000 U.S. adults, conducted by Harris Poll, to get a feel for expectations and plans for housing and homeownership in 2018. The survey results show 31 percent of respondents expect 2018 to be a better year for selling a home than 2017 – and just 14 percent expect it to be worse.
Despite the enthusiasm, only 6 percent of homeowners surveyed plan to sell their home in 2018.
If you're a homeowner and have been thinking about selling, what are you waiting for? You may not consider 2018 to be your year to sell, but here are four reasons why selling in the next 12 months could be more beneficial than you think.
Buyers are chomping at the bit. Eager homebuyers have been frustrated over the last few years, experiencing low inventory in most major markets, which is pushing them to start home shopping earlier in the year to try to beat out the competition and ensure they're not missing out on any available properties.
Even before the clock struck midnight on New Year's, people were already getting a head start on looking at buying or selling a home in 2018. Real estate information company HomeLight saw a 25 percent traffic spike on its website on Dec. 26, with continued high rates of traffic through the first part of the new year.
"Folks have generally turned their attention away from the holiday and time with family and friends, and moved onto the new year and what they want to accomplish," says Sumant Sridharan, chief operating officer of HomeLight. "And for many people, that tends to be where they want to live."
The best time to sell your home is traditionally between March and June, Sridharan notes, while warmer climates may see a longer time frame because they're not restricted by weather. But cold weather isn't keeping interested buyers from starting their home search at the start of the year. The fact that buyers take the day after a major holiday to start looking for new home means the traditional selling season could be even hotter.
And while the last couple years have proven beneficial for sellers, seeing many homes sell for asking price or above, it won't last forever. Zillow predicts home builders will begin looking to construct more entry-level homes to meet demand later this year. If you wait too long to put your home on the market, you may find yourself competing with new builds that haven't been a part of the market in large numbers since before the recession.
Interest rates are low … for now. For both the buyer of your home and your own next home purchase, low-interest rates can help make a transaction possible. In the second week of January, the average interest rate for a 30-year fixed-rate mortgage was 4.17 percent, according to NerdWallet. Mortgage rate averages reached more than 4.4 percent in 2017, but closed the year out just below the current rate.
While mortgage rates aren't expected to spike significantly this year, they are forecast to increase overall. The Mortgage Bankers Association predicts 30-year fixed-rate mortgages will rise to 4.6 percent this year, and it expects rates to rise to 5 percent in 2019 and 5.3 percent in 2020.
Content Courtesy: US NEWS
By   Devon Thorsby – Staff Writer |Jan. 12, 2018, at 12:14 p.m.
WHAT'S MY HOME WORTH?
 HOME VALUE AND SEE YOUR AREA COMPARABLES, WHAT'S SOLD
 WHAT'S MY HOME WORTH?  FIND OUT NOW.
****************************************************************************************************************************
Life & Style  * Weekend Calendar 
Current Exhibitions – The Getty Center 
Groundbreaking Architecture Tour 
GETTY CENTER
Daily, through April 29, at 11 am, 2 pm
 The Central Garden at the Getty Center is an evolving work of art, with tree-lined walkways that lead visitors through extraordinary sights, sounds, and scents.
More than 500 varieties of plant material are used in the landscaping of the Central Garden.
The Getty Center features several gardens and fountains, and landscaping for public enjoyment, including a cactus garden at the South Promontory, fountains in the Museum Courtyard and the Tram Arrival Plaza, shaded hideaways, and spectacular views of the Santa Monica Mountains, the Pacific Ocean, and Los Angeles.
The Central Garden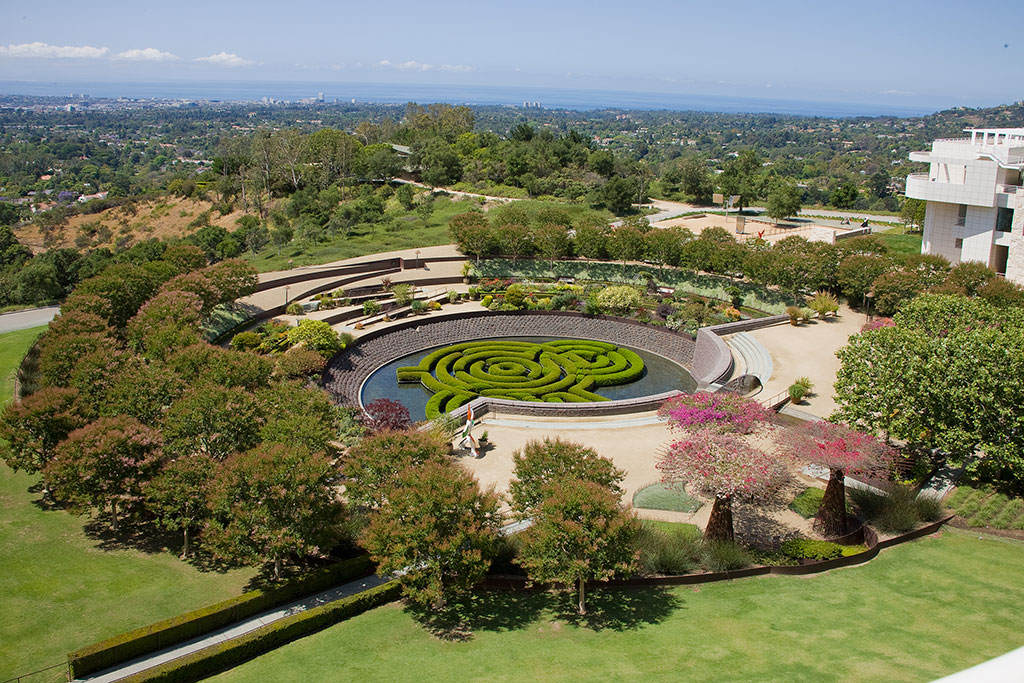 The Central Garden, created by artist Robert Irwin, lies at the heart of the Getty Center. The 134,000-square-foot design features a natural ravine and tree-lined walkway that leads the visitor through an extraordinary experience of sights, sounds, and scents.
The walkway traverses a stream that winds through a variety of plants and gradually descends to a plaza where bougainvilleaarbors provide scale and a sense of intimacy. Continuing through the plaza, the stream cascades over a stone waterfall or "chadar," into a pool with a floating maze of azaleas. Specialty gardens encircle the pool. All of the foliage and materials of the garden have been selected to accentuate the interplay of light, color, and reflection.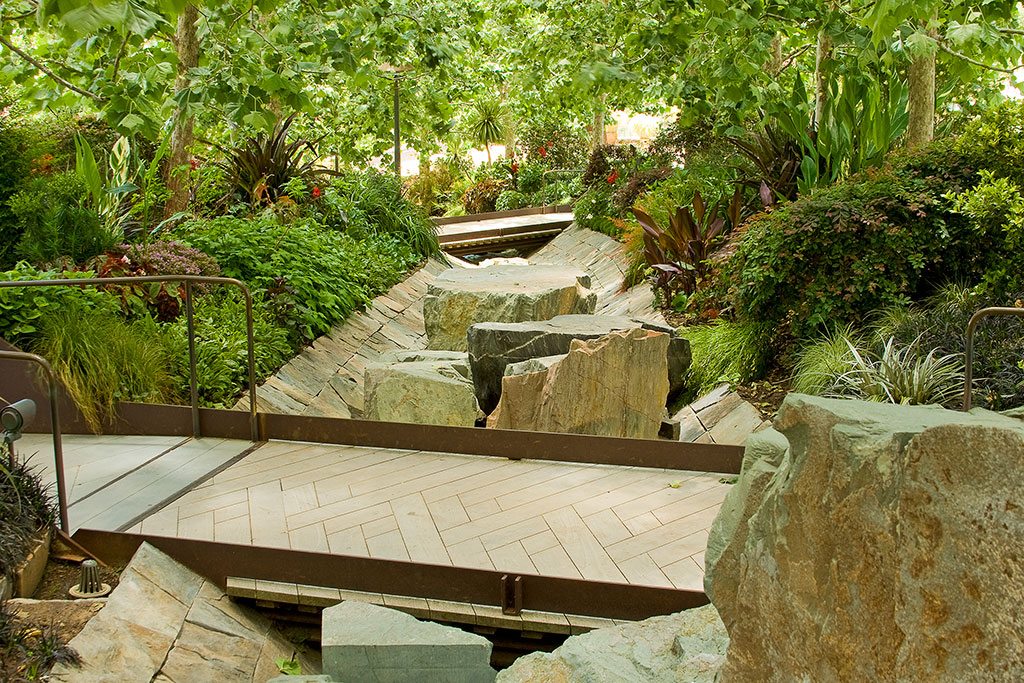 Irwin began planning the Central Garden in 1992, as a key part of the Getty Center project. Since the Center opened in 1997, the Central Garden has evolved as its plants have grown and been trimmed. New plants are constantly being added to the palette. Irwin's statement "Always changing, never twice the same" is carved into the plaza floor, reminding visitors of the ever-changing nature of this living work of art.
 The Getty Center
Free | No ticket required
 This 45-minute site tour explores the legacy of the Getty Center's groundbreaking architecture from concept to construction to its opening in 1997. Meet outside the Museum entrance on the bench at the top of the stairs.
Life & Style – Arts &  Entertainment
Current Exhibitions and Installations
The Getty Villa is currently being reimagined.Please excuse some temporary gallery closures and restricted access to the Outer Peristyle during your visit. See the most current information to enjoy our many open galleries and special program.
******************************************************************************************************************
Art museum in Los Angeles, California
The J. Paul Getty Museum commonly referred to as the Getty, is an art museum in California housed on two campuses: the Getty Center and Getty Villa
Exhibits
Michelangelo to Degas: Major New Acquisitions
The Getty Museum recently made one of the most significant acquisitions in its history, consisting of sixteen drawings and a painting from a private collection. The group features works by many of the most celebrated draftsmen in the history of European art, including Michelangelo, Andrea del Sarto, Domenico Tiepolo, G…
getty.edu
Robert Polidori: 20 Photographs of the Getty Museum, 1997
Acclaimed photographer Robert Polidori (Canadian-American-French, born 1951), known for his images of architecture and human habitats, created a series of images of the Getty Center shortly before the opening of the multipurpose complex in 1997. Organized to celebrate the twentieth anniversary of the Center, this exhib…
getty.edu
FREE
Getty Center has free admission but parking is chargeable.
$15 flat rate is the parking fee. The same is $10 if you enter after 3pm.
Parking for less than one hour is free
 ***************************************************************************************************************************
The Room With The View  * Joyce Kim – Coldwell Banker Global Luxury ( SOLD $ 4.5 M)
Home With The View Joyce Kim – Coldwell Banker Global Luxury ( SOLD $ 4.5 M)
Your Home Value
YOUR HOME VALUE 
GET YOUR FREE REPORT!
당신의 집의 가치를 몇분만에 알아 보실수 있습니다.
Enter Your Address Below.  It will only take few minutes.  
Click Here to Find Your Home Value:   GO!
Email – Joyce Kim for FREE  Seller  Package Now! 
8 Practical Facts & Tips To Get Your Home Sell With Best Price! 
셀러가 가장 집을 높게 팔수있는 8가지  실속있는 팁스를 담은  – 브클렛을 – 무료증정 합니다. 
Joycekim@coldwellbanker.com 
(Direct)   213 503-0315  (B) 310 777-6278 
Fluent English/Fluent Korean